---
We are open!
Appointment Check-in Procedures:
In order to keep you and our staff safe during the COVID-19 pandemic, we have many NEW check-in procedures in place...
1) Please brush your teeth at home before your appointment. Our toothbrushing station is now a handwashing station.
2) All patients must wear a mask to their appointment.
3) To limit the number of people in our office, we ask that anyone who accompanies you to your appointment wait in the car unless absolutely necessary. If necessary, we can only allow a maximum of one person to accompany the patient.
4) Once you arrive, text your NAME to the number sent to you in your appointment reminder email. Each office has a different check-in text number (these are special numbers just for check-in texting):
EASTPOINT - 410-285-3500
ELLICOTT CITY - 410-418-8370
CATONSVILLE - 443-353-9414
ELDERSBURG - 443-961-5777
LUTHERVILLE - 410-321-0505
5) Please wait patiently in your car. This is our "virtual waiting room"!
6) When ready, we will notify you via text to send the patient (and only the patient) to enter the office. Here, you may wait socially-distanced until the next dental chair is available.
7) Once in the waiting room, we will take your temperature with a contact-free thermometer and ask you screening questions (see screening questions below). We will then ask that you sanitize your hands. Please keep your mask on until the dental chair is reclined. Please replace the mask when your chair is returned to upright.
---
COVID-19 Screening Questions:
Please reschedule your appointment if you can answer YES to any of the following screening questions: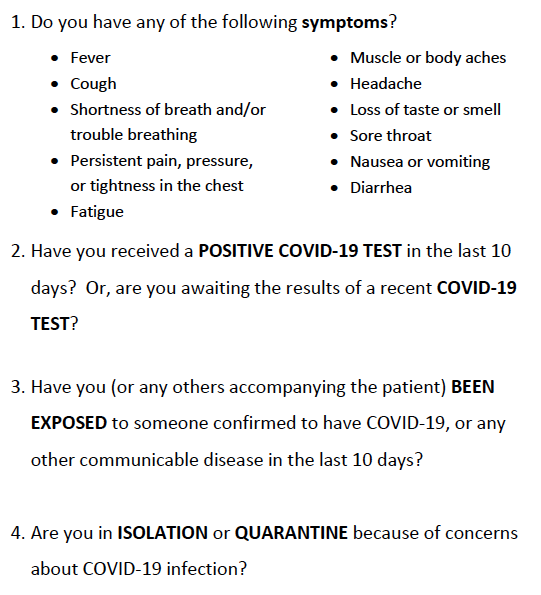 ---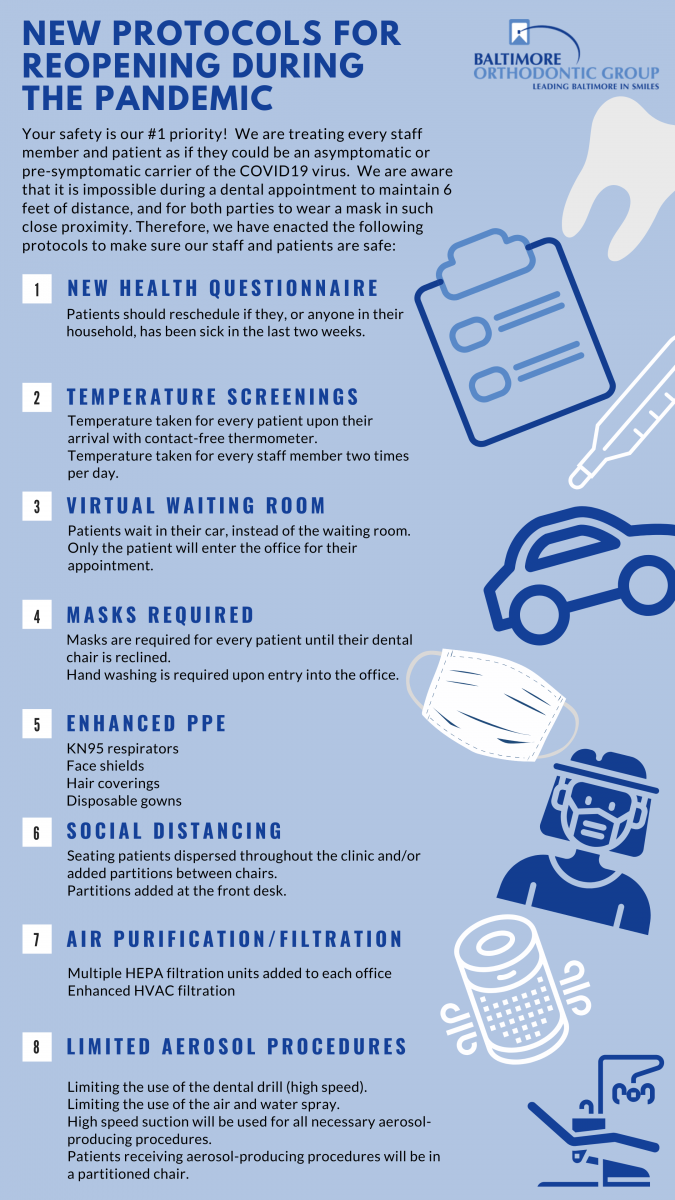 Let's

Get Started

The first step towards a beautiful and healthy smile is to schedule an appointment with Baltimore Orthodontic Group with a dedicated team that treats patients of all ages. We work with our patients to find a treatment option that best fits the patients' needs, including: Invisalign, clear braces and metal braces. We have five convenient orthodontic offices in the Baltimore area. You can schedule your appointment by giving us a call at your preferred location, Ellicott City, Catonsville, Eldersburg, Eastpoint or Lutherville. Contact information is listed below. You can also send a request by email to us by clicking here.
We look forward to meeting you in our office!

Request Appointment